Question Pools are used to assign users a distinct selection of questions from a larger bank. Questions in a Question Pool will be randomly revealed or omitted based on a percentage value that is set when creating the Question Pool. For example, if 10 questions are part of a 50% Question Pool, 5 questions will be randomly selected and presented to the learner. The other 5 will be omitted.
The questions that are revealed and omitted will be different for each learner.
This is a useful tool if you want to make a serious, less flexible, assessment and discourage behaviours like answer sharing between your learners. For more information about how to best use Question Pools in your courses, see Best Practice: Using Question Pools.
Creating a question pool
2. Select the Page Settings button and select the Rules tab
3. In the text field under the Create a new Question Pool section, give your Question Pool a name: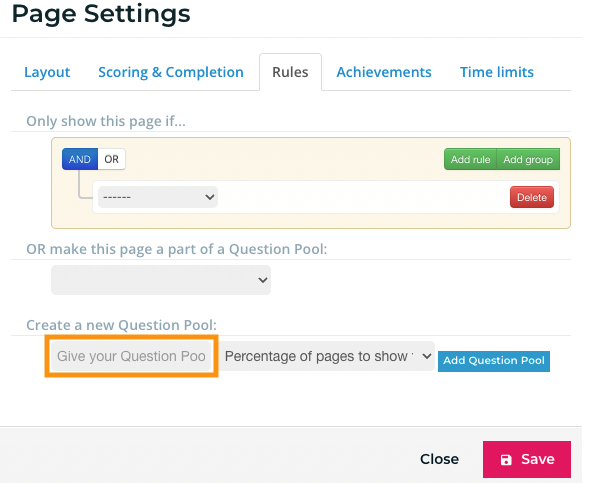 4. Select the Percentage of pages to show from Pool from the dropdown menu: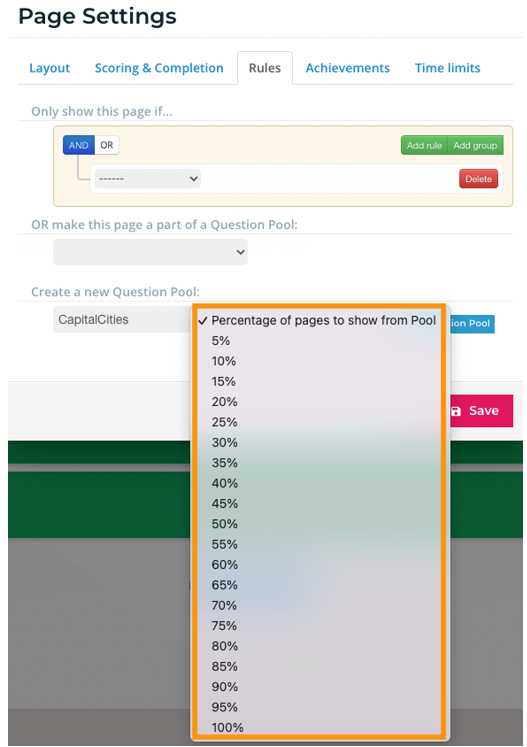 This defines the percentage of pages in the Question Pool that will be shown to the learner. For example, if you have 5 questions in a Question Pool set to show 60% of pages, the learner will be shown 3 randomly selected questions.
Note: If the set percentage for a Question Pool results in a decimal number, Elucidat will always round this number down. For example, if I create a 35% Question for ten questions, the resulting number will be 3.5. This will be rounded down and the learner will be given 3 questions.
5. Select Add Question Pool. The page you created the Question Pool on will automatically become part of that Question Pool
6. Save your changes with the Save button
Adding pages to a Question Pool
Once you've created your Question Pool, you'll need to add your other question pages to it.
1. Open the page which contains the question you want to add to a pool
2. Select the Page Settings button and select the Rules tab
3. In the section OR make this page a part of a Question pool, select the Question Pool you want to add the page to from the dropdown menu: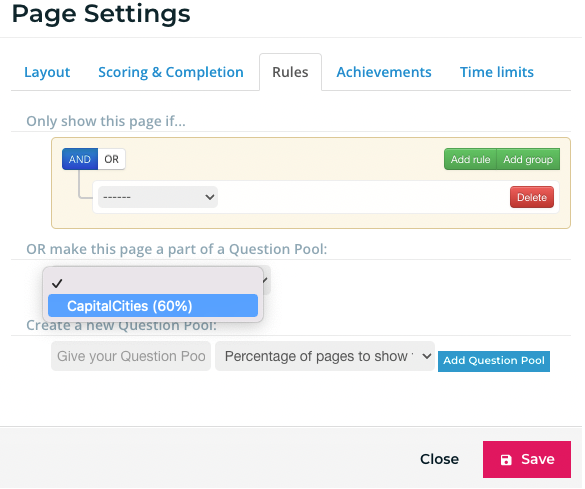 4. Use Save to save your changes
5. Repeat for all other question pages that should be included in the Question Pool