April 2022 | March 2022 | February 2022 | January 2022 | December 2021 | September 2021 | July 2021
Find out what's new and improved in Elucidat as we help you to produce quality elearning at scale!
April 2022
Updated graph experience for learners
Previously, when using a graph in your project, the first few learners would see randomly generated placeholder data in the graph. This could cause confusion or display an inaccurate conclusion.
We've changed it so that the first few learners will now see a message informing them that the graph doesn't yet have enough data. As soon as enough learners have accessed the course, the graph will display!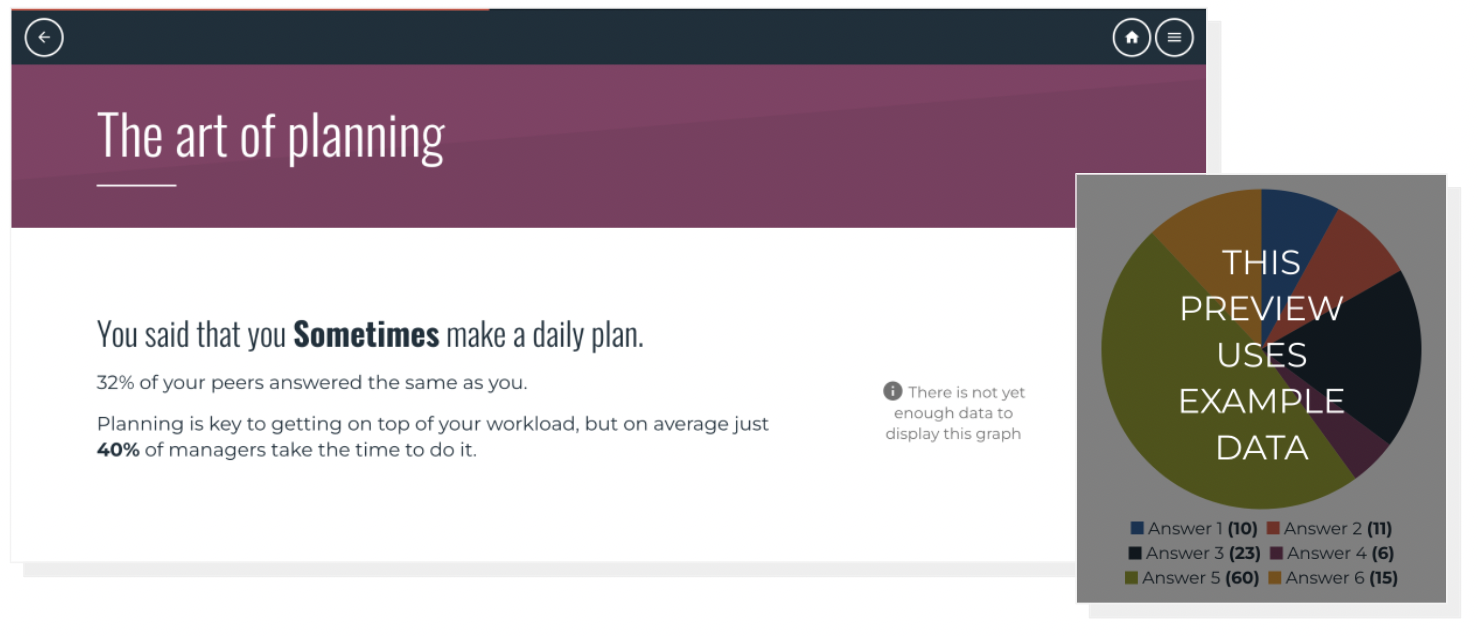 Usage data now within your hands!
You've now got access to a new usage dashboard in Elucidat! Seamlessly keep track of your users, learners and releases in one place.
You can also see which Elucidat plan you're on, as well as when your next renewal is!

March 2022
Identifying learners using an Online Link with multiple domains
It's now possible to restrict access to learners using any number of email domains when using the Online Link identify feature!
Previously, only one domain could be set, which would mean you'd need to create a separate release for each configured email domain. We've now enabled multiple domains!

Create and edit tables
Tables are back! As we transition over to our new text editor, we've now enabled tables in the new editor to help users migrate.
We're also working on a new tables component in the background to ensure tables in projects work seamlessly across all devices! Watch this space…

Project color coding
Is this a parent course? Is this a variation? Is this a standalone project? Now you'll be able to tell instantly which type of project you're in!
We've added handy color coding across Elucidat so you can tell the type of project you're editing at a quick glance. No more accidental edits in a variation when you meant to edit the master course!

Page template accessibility highlight
At Elucidat we believe in creating people-centered elearning and this includes ensuring elearning is accessible for all.
To support users creating accessible elearning, we've added a handy new icon to identify which page types are recommended for projects.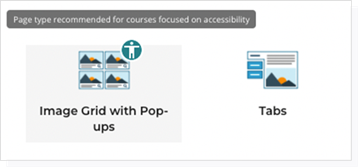 February 2022
Get more visibility with Usage Logs
We've introduced a new feature which allows you to pull a report of how your users have been using Elucidat so you have more visibility across your account.
You'll be able to see when users have logged in, which projects have been created, which pages have been updated and more! Users with the permission to view your subscription details will have the ability to download usage logs from the Teams area.

January 2022
Project releases at super speed!
We've made a major update to the way project releases are made. Previously when triggering a project release it would join a queue and the size of the queue would determine how long it'd take to get your project… and no one likes a long queue!
As learning in Elucidat reaches 30 million people, the release queue is no more! Now releases are on-demand meaning they're MUCH quicker! One customer who helped us test this at scale reported a near 2,000% speed increase! Now that's quick.
New text editor
Our brand new text editor makes it easier and quicker than ever to craft the words you need. We've given the text editing experience a facelift with a super modern interface and ironed out some of those annoying little quirks! Yeah, we're talking about you 'backspace'….
As a fundamental part of the authoring experience, we hope you love the changes! Find out more here.

December 2021
Protect projects with locking
Keep control and lock your projects to prevent unwanted edits. Is your project released to learners or maybe out for translation? With Project Locking, you can now lock a project to stop users in your account from making changes.
Project Locking introduces a brand new permission, so you can determine exactly which roles and users have the power to lock and unlock your projects!
Find out how to get started with Project Locking here.
September 2021
Give (or remove) the power to release to Online Link
You can now give (or remove) the power to create Online Link releases for your projects. The Online Link release mode is a great way to get learning directly to your learners without routing via the Learning Management System (LMS).
We've had feedback from customers that sometimes they'd like to restrict who can make these releases. So your wish is our command! We've added a brand-new permission to our Advanced User Management suite that enables you to turn on/off the ability to create Online Link releases for any role. You have the power!
Find out more about this new permission here.
Variation project settings inheritance
Managing multiple variations of projects using Variations Manager? Well, now your variations can inherit the project settings from the original project they're created from. Better yet, it means you can tweak the original project settings and have them filter across all variations. Neat!
July 2021
Norsk nå tilgjengelig!
After welcoming our latest partner; Task, we've translated Elucidat into Norwegian! Now users creating content in Elucidat can use the Norwegian version of Elucidat.
Norwegian adds to the languages Elucidat is already available in which include German, Spanish, French, Italian, Brazilian Portuguese, Japanese and Mandarin.