Adding a Close Course button to the header menu is a useful way to show learners that they can leave the course at any time. When the learner returns to the course SCORM bookmarking ensures they will return to the page they were on when they exited the course.
How to add a Close Course button
1. Open any page in the course where you wish to add a Close Course button.
2. In Layout, click the grayed-out header section:

3. You will be asked to confirm if you want to edit the main navigation. Click the Switch to editing the Main Navigation button:

4. Select the Add here button at the location where you would like to add the Close Course button in the header:

5. Select the Close Course button:

6. The Close Course button will now be added to the header section and be accessible to your learner throughout the course:

7. A popup window will appear when the Close Course button is clicked, asking the learner to confirm they want to close the course. In Author, when you click on the Close Course button you can decide whether you want to update or change the default text in this popup window: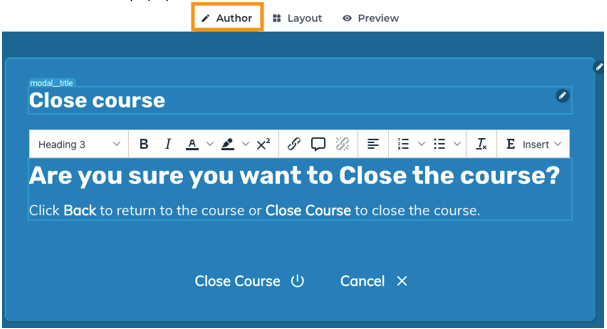 Note: The Close Course button will only work in a released version of your course. It will appear inactive whilst authoring the course on the platform.