You can update your existing Releases using our Re-release feature.
For instance, you may notice a typo in your course which you would like to correct.
With the Re-release feature, you can go back into your Project, correct the typo and re-release your content. Your course will be automatically updated to reflect your changes. You do not have to re-upload your zip file to your LMS or change existing links in your website or LRS.
Note: Backup SCORM releases cannot be automatically updated via re-release and will need to be re-uploaded to your LMS if they have been re-released.
How to re-release
1. Open the project you wish to re-release and select Release:
2. Find the release you wish to update and press the 'Re-release' icon: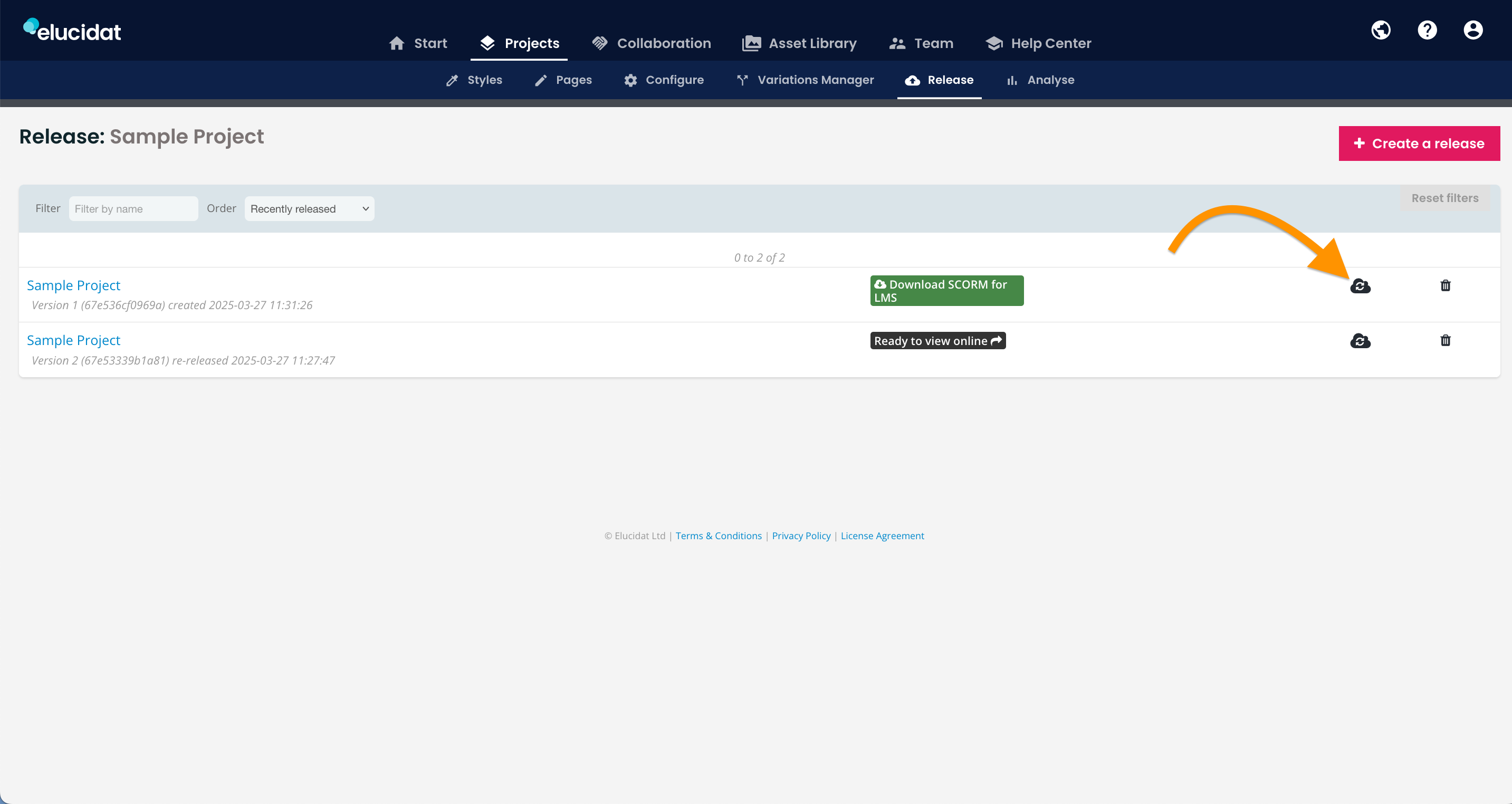 Your course will now begin re-releasing. You will receive an email notification to tell you once this has completed.
Retaining bookmarking after a re-release
When a course is re-released, the bookmarking of any learners that are mid-way through the course will be reset.
This means that if your learner leaves the course part-way through and re-visits the module, they will see the first page and their score will be reset.
If you do not want the bookmarking to be cleared, select Re-release and retain bookmarking (recommended) from the re-release pop-up which appears after clicking the re-release icon.
This will re-release the course whilst still preserving your learner's bookmarking.
This can only be done if the changes made since the last release are Non-clearing edits. These are non-structural changes which can be made in Author like:
Changing text

Changing fonts

Formatting the text

Adding, r

esizing and removing

images or other media from their containers in 'Author'

Adding, changing or removing links to pages, external websites and uploaded Resources

Changing answers to correct or

incorrect

Changing the style of buttons

Removing image elements or text boxes via 'Author'

Changing the appearance of a Project via its Style
As well as other minor changes like:
Changing the learner tracking options in 'Configure'

Importing translations

Changing settings in 'Time Limits' in the 'Page Settings'
Uploading Resources to your Project
Bookmarking cannot be retained in a re-release when one or more Clearing edits have been made. These include structural changes to the Project that can be made in Layout as well as the Project's configuration settings. For example:
Adding, moving, duplicating or deleting pages
Adding, moving, duplicating or deleting chapters
Adding, moving, duplicating or deleting parts on one or more pages
Changing the page type
Changing the completion requirement, Rules, Achievements or creating a Question Pool and adding it to a Question Pool via 'Page Settings'
Applying a page lock to a page
Modifying a page's score weighting
Changing whether a page appears in the Menu
Deleting Variations of a Master Project
Note: Retaining bookmarking in a re-release is included on our Enterprise and Scale accounts, and available as an add-on for Team and Basic accounts.