Find out what's new and improved in Elucidat so you can create impactful elearning at scale!
January | February | March | April | May | July | August |
Interested in going back in time and seeing all the improvements we made in Elucidat? 
Look back at 2021 and 2022. 
August 2023
Project Style Updates Made Simpler!
Previously, when updating a Style, you had the option to apply it to "This Project only" or "All Projects". 
To avoid accidentally refreshing all of your Projects, we have removed that option and made it easier to identify which Project Style you're updating!
Of course, you can still update all Project Styles simultaneously with a little help from our Support team!
July 2023
More Accessible Page Types
Accessibility is at the heart of what we do; that's why we're thrilled to inform you that we've improved accessibility in Elucidat by making more Page Types accessible.
You can see which Page Types are recommended for accessible courses by looking out for the Accessibility icon.
We will continue to work on accessibility in Elucidat as we are passionate about ensuring elearning is accessible for all. You can find a list of the current accessible Page Types in the Choosing an accessible page type article.
May 2023
Retranslation made easy
We know that making small changes to a course is unavoidable because you always want to ensure that you're providing the most up-to-date elearning possible! 
However, even small changes can become big-time eating projects when you need to ensure all localized courses are also updated. To overcome this, we created Retranslate.
The Retranslate enhancement enables you to only translate parts of your project that have been changed since the last translation - saving you time, money, and possibly a headache!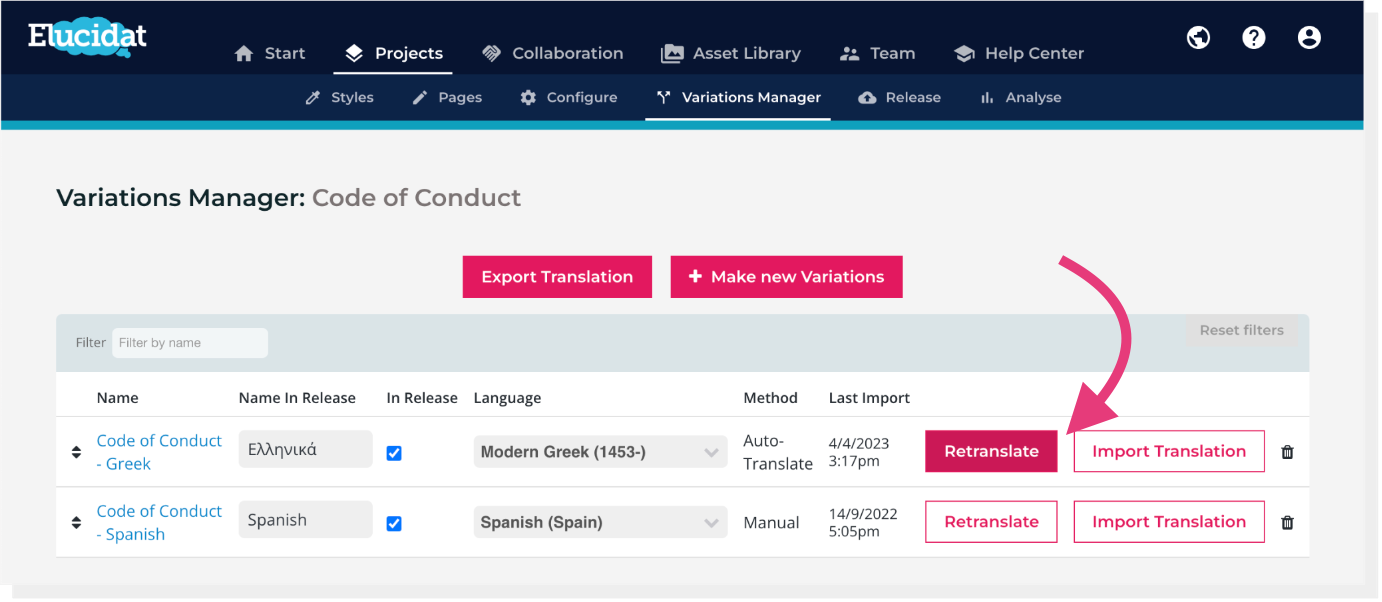 Enhancing the Projects page experience
We have been updating the Projects page to ensure that everything on there makes the user experience as streamlined and frictionless as possible. 
The latest iteration of the Projects page includes a total of not 1, not 2 but 3 enhancements! You now have: 
More focused view of your releases - if you have more than 10 releases under a project, they'll be automatically hidden with the option to 'load more'.
We've extended the character limit to display Project names to 100 characters after receiving feedback from users.
You will also now automatically return to the folder you had open when returning back to the Projects page.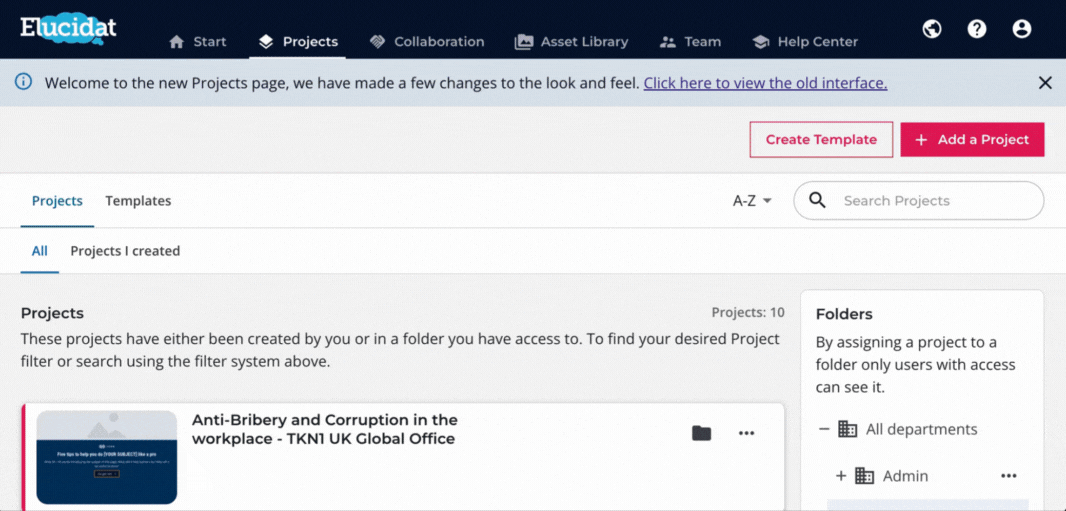 April 2023
Out with the old, in with the new!
Well, not quite. While you'll be presented with the shiny new Projects page, which has a quick search function for your Projects and easy access to each course's Variations and release types, you'll still have the option to return to the original version… for the time being. 
Like with training wheels on a bicycle, we want you to feel comfortable with the new version before the previous version is removed completely. So, we encourage you to take it for a ride and get comfortable using it before the training wheels come off! 
Making the latest version the default page doesn't mean we're done developing it; we're always open to feedback, so if you have any ideas about the page, please let us know.

Get in touch with our support team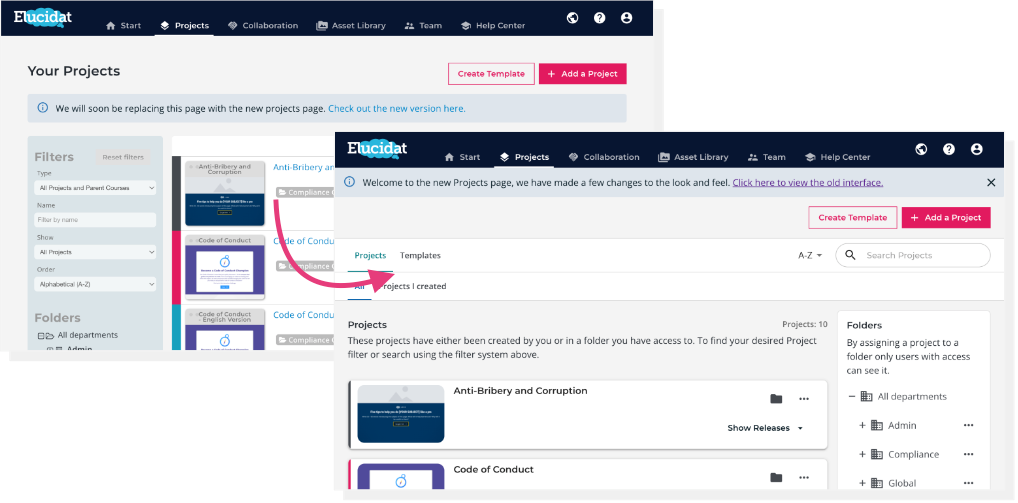 March 2023
Have you heard the big news? Auto-Translate is here.
We're always looking for ways to innovate that ensure a better authoring experience for you. That's why we decided to add Auto-Translate to the long list of Elucidat features that help you get things done without the hustle. 
The new Auto-Translate feature gives you access to 75 languages, allowing you to translate your content in seconds instead of weeks. 
But that's not all; it has also shown the ability to reduce the translating effort by 90%, meaning that your learning teams can spend their valuable time elsewhere!
Check out the Auto-Translate page for more info.
We're firm believers in "There's always room for improvement"!
Ensuring that everything in Elucidat allows you to get all the information you need seamlessly is something we're always striving for; that's why we value feedback so much.
In the new Projects page, we've now made it possible to have a helicopter view of all the different releases you have of a course.
This means that with the click of a button, you'll get instant access to the release name, release date, and other useful information all in one place.

February 2023
Rescinding Review invitations and removing reviewers from projects
In Elucidat, we know that an invitation can't possibly last forever; that's why in the latest update, we made it possible for reviewers to be uninvited from projects! 
With this new functionality, you can keep your projects tidy and remove Reviewers who shouldn't have been invited or no longer need access. Removed Reviewers will no longer see the project in their Collaboration tab.
Comments, so many comments!
Sometimes users find it challenging to identify comments that relate to the same area, especially if someone has left multiple comments that weren't in order. 
To make this more straightforward, we have now made it possible to bundle comments under the same item! You will now be able to view all comments relating to a single section, making it easier to identify and reply to all Project feedback. 
Your continued feedback helps us improve the new Projects page!
The new Projects page has been getting a lot of use and feedback which helps us to improve your overall experience.
Previously, when creating a new project from the Projects tab, users were directed to the Start tab. However, feedback has shown that this additional step isn't essential. We have removed this step to improve the user experience and make it easier to get started quickly when building a new Project! 
From problem to solution in one easy click!
Whether you're a new or experienced user in Elucidat, the Help Center is the best resource to find useful information about how to do specific tasks and actions provided with a step-by-step guide. That's why we have now made it easier to access it!
You can now access the Help Center directly from the Elucidat app; no matter the page you're on, the option will always sit at the top of your screen! A separate browser window will appear when clicking on it, so it's easy to return to your Project once you find the solution. 
January 2023
The Projects page keeps on getting better!
The Projects page got a visual makeover at the end of last year, with much of its functionality remaining the same but opening the door to new possibilities.
With the feedback that you shared, we have continued to work on it, coming up with new ways to provide you with value. In January, we're happy to introduce two new additions: the Variations button and filtering.
Variations Button
With this function, you'll be able to quickly see all Variations associated with the Parent course without needing to access the Variations Manager of each course, saving you time.




Filtering
Many organizations have 100s of courses created in Elucidat, and it can sometimes be difficult to locate the course that you need. Gone are the days of endless scrolling to find the course you need; with the search function and updated filtering layout, you can bring it up in seconds. 


More things will be introduced in the coming months, so watch this space!



Easily upgrade External Collaborators with the new Restricted Reviewer role
In Elucidat, we make it easy for anyone to review a course, as we know that getting feedback can be invaluable.

However, we realize it's crucial to ensure people invited into your account can only access what you've asked them to access and that they can complete their tasks with as little friction as possible.

We've added a new Restricted Reviewer role which can be used when upgrading External Collaborators in your account. The Restricted Reviewer role ensures you're giving the right level of access to upgraded External Collaborators.